Webcam Marketing and Surveillance Services
Absolute Computer Design has been working with AXIS brand web cameras for over ten years. Our web cameras provide a digital movie which can be viewed live or recorded to a local computer. AXIS cameras have built in motion detection that can be programmed to record video to a PC on a trigger, so are a great surveillance option. All AXIS cameras have lens options up to 100mm Zoom, and wide angle lens options. Absolute Computer Design launched the website www.coloradowebcam.net in 2001, and has been providing live webcam views on the Roaring Fork Valley free of charge. July of 2009 we now have 30+ live cameras in Colorado, and hope to have over 100 cameras by 2011. The network currently provides 50,000 views per month with over 15,000 visits per month. We are trying to support the development with local company ads. Right now most of the development costs are being paid for by Absolute Computer Design.
WE WILL CONSIDER ANY LOCATION TO INSTALL WEBCAMS FOR MARKETING PURPOSES.
ADD A MARKETING CAMERA TO THE LIVE NETWORK MARKETING $1000 per year plus $1000 one time camera.
This includes ad work, camera install and support.
$120 Per Man hour for Camera install labor.
Camera and DVR by AXIS brand.
Web Camera or webcam systems for security and monitoring.

First the dumb camera vs. the smart web camera education.
The USB camera on your pc you use for messaging is a dumb camera, and older security systems use dumb cameras hooked into Video Encoders. These dumb cameras were not too expensive and did not require a lot to make. The surveillance systems using dumb cameras had a low cost per camera, and a high cost for the video encoders. The encoders would stream the camera images to the video recording device and now the internet, as well as allow you to stream it to a monitor. The camera did not have any motion detection or image filtering control or low light control; it just delivered the image to the encoder. 

What Absolute Computer Design is doing for the last 10 years is working with Smart Web Cameras. Each camera is basically a computer, and the computer is controlling the camera, its internet connection, motion detection, audio input and output, images filtering tools, image blackout tool, and the ability to stream digital video recording to a PC hosting the stored video. The price per camera has remained the same over the last 10 years hovering at about $1000 per camera installed. The cameras have greatly improved over the years, but the price has remained static.

Absolute Computer Design has tested many web camera systems over the last decade, and we feel the best engineered product has remained strongly in the favor of AXIS brand webcams. AXIS has been well supported over the last decade, and there product line continues to improve. ACD has been using fixed view cameras, although AXIS offers a large line of pan tilt zoom line PTZ cameras which have a much lower start up price now. The cost basing at $1000 per fixed outdoor camera, and $1500 for outdoor PTZ camera, is only the camera cost, and you will also need weather enclosure, brackets, Power over Ethernet injector (POE), hardware, and wire as well.
First we start with a SMART WEBCAM SOLUTION.
What features do you want to consider for you web camera solution?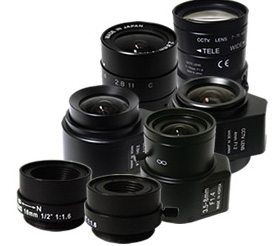 Can the lens be upgraded to zoom, or special use?

Yes all AXIS fixed view cameras have standard CS type lens. Specifying the right lens for any video application is critical to configuring an effective system. When going through this process it is also important to keep in mind that all lenses are not created equally! The performance of a video lens is dependent on the engineering and manufacturing technology used to develop and build it. Lenses may have the same identifying characteristics (focal length, aperture, and operating features) and deliver radically differing results in resolution, color correction, and uniformity. At ACD we have experimented with many lens companies. Stick with brand name if you can, cheap imports look good, but fall out of focus with Colorado temperature changes. There are many more poor lenses out there then there are good ones. We have had success with TAMROM, FUGINON, PENTAX in the past.
Does the application require a pan tilt zoom solution?

It used to be that the cost of PTZ was over $4000, but now you can buy into quality outdoor PTZ for about $1600 for the camera. There are extra costs but the base price is much easier to take. A PTZ solution complicates your viewing and control, so all solutions become more complicated. Two fixed cameras can take the same picture as one PTZ, and you will never have the chance of missing the video shot because the camera was pointed away. In a PTZ camera there is no option to change the lens, so you lose that part of the camera dynamics. We feel a PTZ solution is an extra that is something that is nice to have but not required. 
Does the camera support audio?

Early AXIS cameras used to require a special piece of hardware to stream audio, and ACD has worked with audio in the past. With audio recording and broadcasting capability built into AXIS cameras, that option is available for development without adding hardware other then speakers. For applications that want to record or broadcast audio now, we just program the smart web camera to do so, and program the digital movie recording software to save both audio and video. Remember the camera can handle two way audio, but if the camera is outside and in an enclosure, the built in microphone will not work. In that case an external microphone is required.
Does the camera support Power over Ethernet POE?

All AXIS brand web cameras are POE compatible, and newer camera lines do not come with power packs with the purchase. Power is to be delivered by a POE injector that the end uses mush purchase. 
Does the camera offer MPEG-4 compression?


Yes, MPEG-4 is a compression format that all AXIS cameras support for streaming video.
Does the camera offer Motion JPEG compression?

Yes, Motion JPEG is a compression format that all AXIS cameras support for streaming video.
Does the camera offer H.264 compression?

Yes, Some AXIS brand web cameras support H.264 compression a very new compression format that is becoming a standard. P1344 and its family of cameras supper H.264 and HD video output 1080.
What is the max frame rate per second?

This is very important part of the smart web camera, the Frame Rate. AXIS brand web cameras deliver 30 frames per second, when hooked up directly to the network backbone. This is a very important point, because the internet is not yet able to stream that frame rate of 30 frames per second in most cases. So depending on your internet speed from where you are viewing the image and the internet delivery speed at the camera location will result in the final viewing speed. Also factors like the resolution you are viewing and the compression type and the number of simultaneous viewers all are factors in the speed of view. ACD is working on a high speed streaming solution now, and hopes to have it up and available soon. This new solution will lock the camera, and allow only one viewer, the server, and the server will build a fast stream that all can share without slowing down the camera.
What is the max resolution of the camera? AXIS brand web cameras of the past like the AXIS 211 has a max resolution 640 * 480 Pixels, where the newer AXIS P1344 resolution 1280 * 800, AXIS P1347 resolution 2560 * 1920. These higher resolutions have increased enough to use the images in court, where the older 640* 480 would be good enough to catch people but not good enough to convict.
Does the camera offer a public view option for marketing?
This is another important point, because some other brands do not have a public view option in the camera control software. So if you want to use you camera on your website for marketing, you have to make special programming to solve the limitation.
Is the camera outdoor rated?

Another very important reason why AXIS bran cameras cost $1000+ is the fact that they are weather proof in an enclosure. I have field tested AXIS brand web cameras now for 12 years, and have been happy. Not to say there are not failures, there are, and the equipment does fail in some cases. Expect that your camera exposed to Colorado conditions to last 10 years. You have a three year warranty on new cameras, but you can expect the image to burn and color to slowly fade over the life of the cameras. The biggest problem for Colorado in my experience is the sun, which is not possible to avoid direct sun exposure to the lens. The sun over time will burn the image, and the auto-iris will fail over time for sun burn. I see no way past this other than trying to avoid direct sun exposure to the lens, good luck.